Certified on all 7 Pillars
of ALTA Best Practices

One of the first in the industry to complete
an SSAE 16 Type I and Type II examination
with no Exceptions to Standards

Certified by auditors to the
American Land Title Association's "Best Practices"

At Colorado Professionals Title
We are proud to be SSAE 16 Certified
Bring the tools with you.
Our mobiel app (called Equity Mobile) is your gateway to powerful Real Estate and Title tools provided by Colorado Professionals Title. Our native app for both iTunes and Android is designed to be quick and easy to use. Equity Mobile provides you fast and intuitive access to many great tools including:

Search Properties by Map, GPS, or Search Fields
Our new ON the SPOT Walking Farm and Custom Farms
Take a photo of a property to get a Profile - without ever leaving the app!
Full access to our Net Advantage Closing Cost Calculator
Instant access to your local representative
Title and Escrow Rate Calculator
The mobile app is free! Use your normal Colorado Professionals Title or Title Advantage login, or sign up for free and try out our app today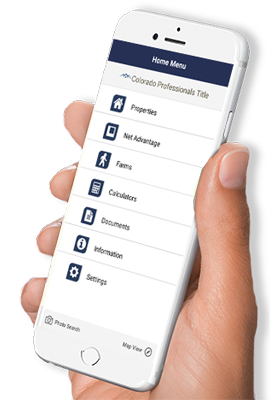 Follow Us:

Colorado Professionals Title
1745 Shea Center Drive #100
Highlands Ranch, Colorado 80129
Colorado Professionals Title
10111 Inverness Main Street, Suite P
Englewood, Colorado 80112
Colorado Professionals Title
143 Union Blvd #120
Lakewood, Colorado 80228
Colorado Professionals Title
8500 W. Bowles Ave.
Littleton, CO 80123